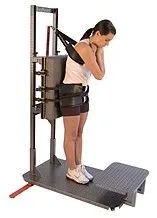 Active Therapeutic Movement Therapy (ATM2®)
Overview
An ATM2® based treatment is a combined clinician/patient effort to manage and control acute and chronic musculoskeletal pain.
Significant results of lowered pain level, improved range of movement, general feeling, and functional goals have been achieved with patients immediateediately during and after treatment.
Our Mission
Our mission is to enable suitable pain sufferers participating in this project to lead a normal life, controlling their problem independently. This will benefit the patient's quality of life, reducing the time, trouble, and costs of repetitive individual back treatments.
ATM2 Clinicians will provide immediate significant symptom relief for the suitable patients.
Referring doctors or health-care providers will benefit from the significant help their patients will receive, and from the reduced costs involved.
The challenge: Chronic low back pain
The ability to cure chronic back and neck pain appears to be one of the biggest challenges clinicians worldwide have to face. The novelty of the ATM2 Concept is that, in all most all cases, not only can it effectively and immediately reduce current symptoms in the clinic phase, but if indicated it will give the patient a tool to take home and control the disorder in the future. If the pain levels are eliminated or maintained at a minimum, and the correct muscles are trained daily or as needed in an efficient and comfortable manner, patient control over their own disorder might be within reach.
Ernie Els, Professional Golfer, UK
"This is an amazing piece of equipment that I was telling you about just after the op a couple of weeks ago. Being on it is really hard work and I build-up a serious sweat, but I would say it's my favourite of all the rehab exercises I have to do. It just feels like it really hits the spot in terms of targeting the muscles that need attention. It's good for increasing my range of movement also."
ATM2® is the registered trademark of BackProject Corporation.